Comprised of thought leaders from across the state, the NHAHA Steering Committee provides strategic direction and insight for the organization, serving to formulate our plan of work. The Committee represents numerous organizations which serve older adults and all counties across NH, contributing critical feedback from the communities they serve.
Beyond Committee involvement, many of the members serve on other NHAHA work groups and committees and as external ambassadors for the cause of healthy aging.
We thank them for their hard work and dedication and are pleased to introduce them to you!

Mary Ann Aldrich
Dartmouth Health
Mary Ann is a registered nurse with a specialty in healthcare administration and community relations. She works for Dartmouth Health and serves on the board of directors for multiple organizations in the community including the Moore Center, Pastoral Counseling Services, and Families in Transition.
She is a vocal advocate for seniors, and is interested in maintaining current knowledge of issues facing this segment of the population which in turn prepares her to be able to advocate for this segment of the population in which she is also an active member.
As a member of the steering Committee, Mary Ann recognizes that meeting with other members of the committee with varying backgrounds and experiences will enable her to learn about issues in the community that go beyond her professional scope. Being an active member of the community advocating for positive change and increasing needed services for seniors is a priority that is both a personal and professional priority for Mary Ann.
When she is not advocating for others in the community, Mary Ann enjoys travelling outside of the United States, which broadens her scope of community to worldwide.
Tom Blonski
Catholic Charities New Hampshire
Tom Blonski has been President/CEO of Catholic Charities New Hampshire since March 2006.  In this position, Tom lives out the mission of CCNH to meet the increasing needs of the poor and vulnerable through transformative social services (NH Food Bank; Liberty House, New Generation; Immigration Legal Services; St. Charles School, Counseling Services, Our Place, etc.) and senior care services (7 nursing homes, 1 ALF, 4 IL apts for senior living, etc.), serving more than 125,000 people throughout NH each year. Prior to this, he worked for various nursing home chains in Connecticut.
A graduate of Trinity College in Connecticut, Tom also holds a MBA with a specialization in healthcare from The University of Connecticut. He currently serves on: the New Hampshire Supreme Court's Character and Fitness Committee (for new applicants to the NH bar); the board of NH Center for Nonprofits (Governance chair); the Executive Committee for Diocesan Directors for CCUSA (Convening Committee chair); The NH Alliance for Healthy Aging steering committee; the LTC-100 national advisory board and the public policy committee of the Diocese of Manchester.
Tom lives in Brentwood, NH, with his wife and three children.  He's a certified youth minister, a third-degree Knight and leads the homeless ministry program at his church in Exeter.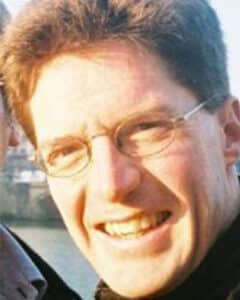 Scott Bogle
Rockingham Planning Commission
Scott Bogle is a transportation planner for the Rockingham Planning Commission, where he focuses on assisting communities to improve options for people who cannot drive or choose not to drive, for twenty-seven of thirty-six Rockingham County communities. This includes working to improve pedestrian and bicycle safety as well as public transportation and options like volunteer driver programs. Like many others on the Steering Committee, Scott recognizes that the strategy of aging in place only works if people can get from their homes to medical appointments, grocery shopping, social/civic opportunities, and other basic life needs.
Scott chose to work with NHAHA because of the opportunity to learn about innovative work around the state to make communities more age friendly. He also understands that the unmet needs of elders is a growing disparity in New Hampshire, and as a senior caregiver himself, he is keen on bridging the gaps to ensure that the seniors of New Hampshire have the tools they need to continue to live a full life.
When Scott is taking a break from his work with the Rockingham Planning Commission and Steering Committee, he enjoys some quality family time with his wife and kids, and their tandem bikes!

Gail T. Brown
NH Oral Health Coalition 
Gail Brown is a Director for the NH Oral Health Coalition where she works on advocacy and policy development for the coalition statewide. The NH Oral Health Coalition is dedicated to advancing oral health public policy and services. Her work focuses on the integration of oral health and overall health with a focus on equitable and affordable access to care for all.
She joined NHAHA in the hope of bringing information and resources to providers, programs, and seniors within the NH community to help improve health, oral health, quality of life, and opportunities for our senior population.
In her free time, Gail enjoys painting and ice skating.  
Dick Chevrefils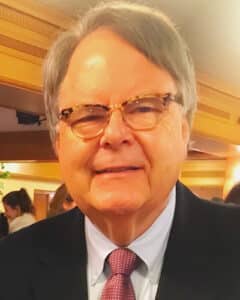 Community Advocate
Dick Chevrefils is an AARP volunteer and has a background in social work. He worked with the Department of Health and Human Services (NH) for 35 years, as well as 9 years with AARP in both New Hampshire and Pennsylvania.
Dick has a strong background in volunteering as well and actively works with AARP (NH), National Alliance on Mental Illness (NAMI NH), Adoptive Families for Children Foundation, and serves on the advisory board to the Center for Aging and Community Living. In addition to these roles, he is also a part of the AHA Caregiving Group.
When he has spare time from all of his volunteer efforts and hard work, Dick enjoys travelling, which he hopes to do more of in the future!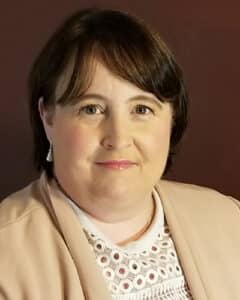 Amy Cook
NAMI New Hampshire
Amy Cook began working for NAMI New Hampshire in January 2023 to make the organization's suicide prevention training and services more accessible to underserved and diverse populations. Prior to that, she was a Division Director at the NH Department of Military Affairs and Veterans Services where she administered and facilitated statewide initiatives to benefit military and Veteran families.
Despite moving to a new role, Amy continues to work with the military and Veteran population by acting as the Chair the NH Suicide Prevention Council Military & Veterans Committee and also providing training, consultation, and technical assistance under VA/SAMHSA funding to teams in 48 states and the U.S. Territories developing suicide prevention initiatives for military and Veteran communities.
Amy brings a wealth of experience to the Steering Committee, recognizing that over 50% of the New Hampshire veteran population is over the age of 65. As a result, Amy has key experience in advocating and executing solutions to aging-related difficulties, which will be an incredible asset to the Steering Committee.
When Amy is not advocating for one of the most vulnerable New Hampshire populations, she passes the time by advocating for our furry friends. Amy and her family rescued three dogs and three pregnant mini-Rex rabbits and has found a loving home for all of the babies!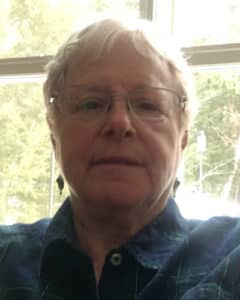 Nancy Dorner
NH Alliance for End-of-Life Options
Nancy Dorner is a member of the New Hampshire Alliance for End-of-Life Options, where she assists the senior community of New Hampshire ensure that they have the resources and information they need to make some of the most important decisions of their life.
Nancy also has experience in the mental healthcare field, and worked for a Community Mental Health Center, where she was their point person for the Referral, Education, Assistance, and Prevention (REAP) program which provided short-term home counseling services for older adults.
Nancy is pleased to be working with the NHAHA Steering Committee, which has allowed her to contribute and learn more about the issues affecting the state's growing aging population. In addition to these roles, Nancy is also a part of the AHA Advocacy Workgroup.
When Nancy is not aiding the senior communities of New Hampshire, she enjoys birdwatching  she has been an avid birdwatcher for years.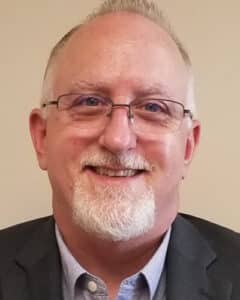 Jon Eriquezzo
Meals on Wheels of Hillsborough County
Jon is the president of Meals on Wheels of Hillsborough County, where he helps meet the needs of adults and seniors who are at risk of food insecurity or isolation.
Recognizing that food insecurity is a growing issue for many, and already working in a role that looks to bridge the gap, Jon brings vital experience to the Steering Committee.
He has worked in the nonprofit field for more than 40 years and has provided housing and support services to people with disabilities and seniors throughout Connecticut, Massachusetts, Maine, New Hampshire and New York.
Jon is also the chair of the New Hampshire VOAD, which stands for Voluntary Organizations Active in Disasters, and a member of the Milford Rotary Club.
In his free time Jon enjoys tending to his chickens and doing stained glass art.
Christina FitzPatrick
AARP New Hampshire

Christina FitzPatrick is the State Director of AARP New Hampshire where she leads work to improve the lives of people 50 and older and their families. This involves advocating for strong public policies, provid
ing valuable educational resources and information, helping to build and strengthen communities, and facilitating volunteer involvement in all aspects of the organization's work.
Before assuming her role at AARP New Hampshire, Christina spent 15 years in AARP's national office. She led the development of cutting-edge public policies to propel AARP's social mission, coordinated the recruitment, selection, and training of national-level volunteers, and managed cross-organization working groups that have developed the substantive foundation for action on a variety of topics. She also provided expert analysis and guidance to AARP senior leadership about income security policy.
During her career she has focused on public policy related to financial security. Among these topics are identifying ways to strengthen the Social Security program, promoting fair and efficient tax policy, ensuring the smooth functioning of labor markets that balance worker protections with employer needs, and most recently examining how artificial intelligence can improve government efficiency and effectiveness and increase the ability of people to age in community while maintaining privacy and preventing unintended consequences.
Christina holds a Master's degree in Public Affairs from Princeton University and a Bachelor of Arts in Social Studies from Harvard University. She has a long history with Toastmasters International and is a member of the National Academy of Social Insurance. In her free time she enjoys playing board games with her family, knitting, and trying out new recipes.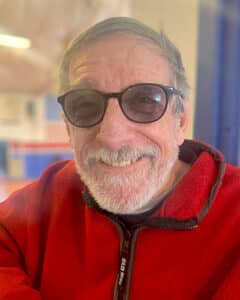 Larry Flint
NH Governor's Council on Physical Activity and Health
Larry Flint wears a multitude of hats in his local health and wellbeing communities. He is a member of the NH Governor's Council on Physical Activity and Health, the Greater Sullivan County Public Health Network, the New London Hospital Wellness Coalition, the Dartmouth Hospital Partners for Community Wellness, the VP Newport Senior Center Board of Directors, and the Town of Newport Recreation Advisory Committee. On a statewide level Larry is a part of the Granite State Games organization.
Larry chose to be a member of the Steering Committee because he makes sure to not represent any one organization. He considers himself a volunteer community activist, and being affiliated with many organizations – on each, he is the older adult promoting healthy aging.
Larry also brings valuable internal NHAHA experience, as he has been involved with NHAHA since its very first meeting decades ago.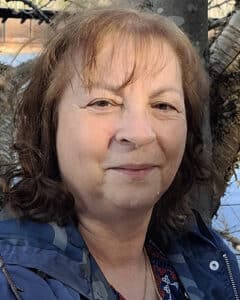 Betty Gilcris
Tri County Community Action Program, Inc.
Betty Gilcris works for Tri County Community Action Program, Inc. where she is the Health & Nutrition Department Head, and oversees the TCCAP Family Dentistry, Senior Meals, RSVP, ServiceLink and Head Start programs within the agency.
She is actively involved in, and continues to advocate for, our aging community through the work she does as a member for the past two years on the NHAHA Steering Committee as well as through her role at TCCAP.
Betty is the grandmother of a 4 ½ year old little boy.  She spends a great deal of her spare time with this little guy learning about and exploring his love of dinosaurs.  Every now and then you can find her enjoying "me" time playing the slot machines at Oxford Casino.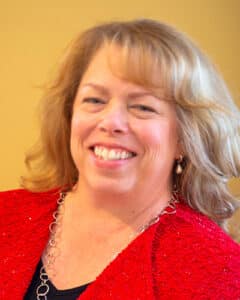 Brooke Holton
The Stephen Group
Brooke Holton is a Senior Consultant with The Stephen Group where she leverages high quality relationships with clients in human service areas.  Brooke has been engaged for more than a decade with nonprofit human service providers.  She has run the operations of a large human services non-profit where she was responsible for the execution and management of organizational strategies, operations, programming, finance, contracts, development, external relationships and collaborations.  In addition, Brooke has more than 20 years of experience in state and municipal government, serving in a variety of roles in public safety and justice environments as well as years of volunteer work and service on boards of charitable organizations.
Brooke is an invaluable asset to the Steering Committee. In addition to her decades of experience, she holds the belief that the collective impact of those involved in the aging field is essential to move the continuum forward. Brooke is also not a stranger to the AHA team, as she was a part of our Advocacy workgroup and also chaired the "Fundamental Needs Are Met" workgroup.
Brooke is no stranger to helping others, before her days of nonprofits and volunteer work, she worked as a dispatcher for the State Police Headquarters before 911 and mobile phones were accessible.
Shawn LaFrance
Community Health Advocate
Shawn retired this past Spring, from Cheshire Medical Center, where he served as Vice President of Population Health.  In joining NHAHA, he brings a strong focus on  Public Health, Healthcare, Spiritual Care Ministry.
In joining the NHAHA Steering Committee, he brings strong experience as family care-giver as well as a strong interest in issues of advocacy and policy.  He is part of NHAHA Reframing Aging Strategy Team.
He has hiked all of New Hampshire's 48 '4,000-Footers'
Cassandra Mason
NH Council on the Arts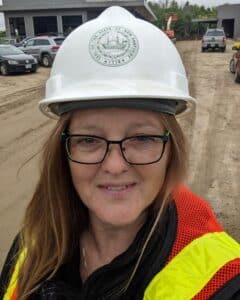 Cassandra Mason works for the NH State Council on the Arts, whose mission is to ensure that every citizen and community in New Hampshire enjoys the cultural, civic, economic, and educational benefits of the arts.
Cassandra and her team bring incredibly valuable experience to the Steering Committee, as their programs bring creative experiences to schools, nonprofit organizations and communities across the
state. Specifically in 2006, their Arts in Health program focused on bringing artist residency programs into NH residential healthcare facilities.  They now partner with health agencies, organizations, and artists to support effective and accessible arts experiences that serve NH's most vulnerable populations: individuals and families whose lives are impacted by chronic disease, disability, behavioral health and substance misuse, aging and dementia, and incarceration.
They continue to explore opportunities to expand their support of key public health priorities that affect the well-being of NH citizens, including  collective/intergenerational trauma, racism and equity, behavioral health and substance misuse, social exclusion/isolation, chronic disease, housing and neighborhood disparities, income instability, homelessness, and climate impact in public health.
Cassandra was drawn to the Steering Committee after attending quarterly meetings as an opportunity to inform her work and engage health professionals. Then, after becoming a care partner for a parent with early onset dementia herself, she knew she could bring that lens of experience to the work of the committee. With both her professional and personal experiences, Cassandra will bring a wealth of knowledge to the table.
When Cassandra is not seeking new ways to support the state's most vulnerable, she loves trying new foods.
Janice McDermott
Community Health Advocate
Janice McDermott has recently retired from Home Care, Hospice & Palliative Care Alliance of NH, where she ended her 35 years of experience of working in hospice and palliative care. During her career she recruited, trained, and supervised hospice staff and volunteers. She also helped form Hospice House in Merrimack. In addition, she also provided ongoing education and advocacy work to hospice providers statewide as State Hospice Associate Director, and also served as hospice social worker and has been certified as an end-of-life Doula.
Janice got involved with the Steering Committee after attending NHAHA quarterly meetings for a few years and quickly loved the goals of the group.  Janice's decades of experience in the senior care field will prove invaluable to the committee, as she has first-hand work with countless senior citizens and has a broad scope of their needs and requirements when providing care and services.
Janice is a natural born caregiver to all and rescued and raised a pet tortoise in her family's backyard for almost 30 years.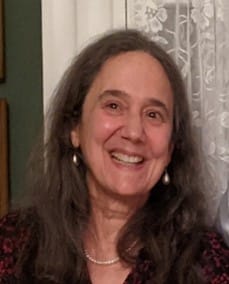 Ritamarie Moscola
Manchester VA Medical Center
Ritamarie Moscola works in the Geriatric Medicine department for the Manchester VA Medical Center which covers the greater Manchester area. She is well versed in both routine senior healthcare, as well as aging related illnesses.
Ritamarie chose to get involved with the Steering Committee because she knew that she could bring valuable insight to the committee as well as her passion to make positive impacts on the quality of life of New Hampshire's elderly population.
Since joining the Steering Committee, she has served as a UNH PROJECT ECHO Subject Matter Expert and joined the No Wrong Door System Task Force.  She also met her goal of obtaining her Amateur Radio license and certification in Morse Code transmission.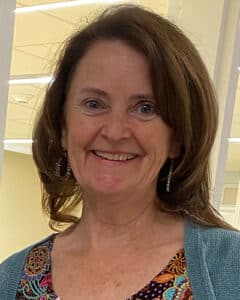 Maureen O'Leary
Portsmouth Senior Activity Center & National Council on Aging
Maureen O'Leary has retired from her career, and now volunteers at the Portsmouth Senior Activity Center as a watercolor teacher. In addition to her volunteer work, she also is a part-time consultant for the National Council on Aging, where she coordinates the national senior center accreditation program.
Maureen has been involved with the NCOA's National Institute of Senior Centers (NISC) for the past 15 years. NISC focuses on sharing best practices, standards, and networking with senior center professionals to strengthen these community focal points. Prior to that she was the Director of the Portsmouth Senior Center where she saw first-hand the importance of this older adult community engagement resource. She chose to get involved with the Steering Committee after hearing their mission to make NH a great place to live as you age.
Maureen is not only an advocate for the elderly community, but also an entertainer! She plays ukulele in a rock band made up of 50- and 60-year-olds called June and the Honey Badgers.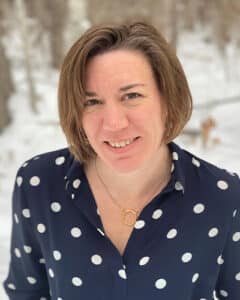 Anne Marie Olsen-Hayward
Seacoast Mental Health Center
Anne Marie Olsen-Hayward works as the REAP Director for the Seacoast Mental Health Center. There she specializes in working with older adults and their care partners on the statewide level around issues with mental health, cognitive and substance misuse issues.
Anne Marie came to the Steering Committee after having loved the work NHAHA does around identifying and addressing systems issues which impact older adults and their loved ones. Having an opportunity to raise awareness and create positive change is important to her. The diversity of agencies and programs which are represented within the AHA community was also a huge draw for her as it affords a positive space to learn from and support each other in this changing landscape.
When Anne Marie is not committed to helping the senior community and their care partners live their lives to the fullest, she enjoys creating and has quite the green thumb. During COVID she maximized her time and did almost a complete upgrade of her backyard including constructing a pergola and benches as well as over 600 sq ft of garden beds! Anne Marie also enjoys volunteering her time as Assistant Scoutmaster to a mixed gender BSA scout troop on the seacoast.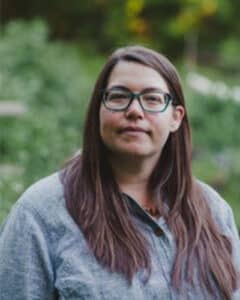 Renee Pepin, PhD
Dartmouth Centers for Health and Aging
Renee Pepin, PhD is trained in geropsychology and works with the Dartmouth Centers for Health and Aging, which serves the Upper Valley, Northern New England, and the general United States. Here she does research on the implementation and dissemination of evidence-based social connectedness and depression treatments for older adults using innovative, brief, and practical strategies to delivery through a combination of community-based aging service providers and technology.
Renee was drawn to the Steering Committee by her interest in expanding access to mental health services for older adults in community-based settings. She is committed to the mission and work of AHA and looks forward to bringing her experiences in geropsychology to the team.
After her days in the office helping expand mental health coverage for seniors, Renee manages her own cut flower farm in Windsor, Vermont.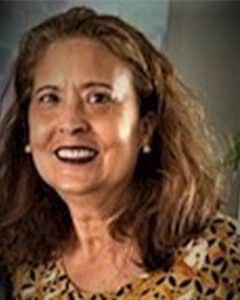 Debra Perou
Community Advocate
After 44 years of running an aging services nonprofit in New Hampshire, Debra retired from that full time position in January of 2023.
She has maintained connections with several aging groups that will not conflict with her successors running of Rockingham Nutrition and Meals on Wheels Program.  While making this transition to a next life chapter, lots of doors, ideas, and journeys are open.
She looks forward to blending what has been, with what is, and helping to build a better present and future for persons aging in New Hampshire.
Debra brings years of experience working in aging fields, specifically meals on wheels, senior community dining, older adults' transportation, and older adult support services.  She offered to become a part of the Steering Committee because of NHAHA's uniqueness and success in what it does,  and feels that working on the AHA Steering Committee combines efforts to make a difference to real people now, in ways that matter.  In addition to the Steering Committee, Debra also works on the Diversity, Equity, and Inclusion work group.  The idea of helping all people, in ways that count for them, is also very important to her.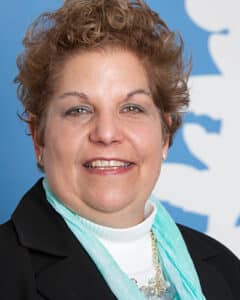 Sue Ruka
Memorial Hospital, North Conway & MWV Health Collaborative
Sue Ruka works for North Conway's Memorial Hospital and the MWV Health Collaborative, which serve the Mount Washington Valley region. Her work in healthcare and rural communities, as well as a specialty with quality-of-life care for individuals with dementia and memory loss.
Sue was drawn to the Steering Committee by her passion for working on issues impacting older adults. She believes older adults have a wisdom and expertise that adds richness and value to our communities. She was interested in working with other individuals and organizations within the state to listen, share, and work collaboratively to enhance quality of life and enable people to remain in their communities of choice on a wide scope. She hopes to bring representation of issues that particularly concern more rural communities in which aging seniors hope to stay. She is also a member of the AHA Advocacy work group.
Sue is no doubt hard working, and definitely has her hands occupied at home as well with her two greyhound dogs, who bring the same warmth and love to her home that she hopes to help seniors maintain as they age.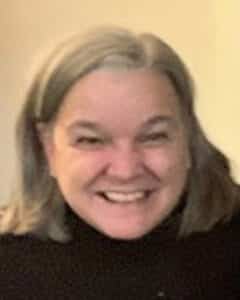 Jennifer Seher
NH Care Collaborative & NH ServiceLink
Jennifer Seher works for the New Hampshire Care Collective and the New Hampshire ServiceLink, who serve the Southwestern New Hampshire Regions. Here she specializes in care coordination and access to care, which allows all individuals and families regardless of age or disability, to have access to community-based information, services, and support. Additionally, she works on cross partner care coordination, particularly during the transition from a hospital or nursing facility to home.
Jennifer chose to become a member of the Steering Committee because she knows the importance of all those hoping to make options for healthy aging in New Hampshire coming together to understand all perspectives, plan for system changes collaboratively, and to raise awareness about age discrimination, barriers to healthy aging, and ways that to be an advocate. She is also a member of the NHAHA Reframing Aging work group.
Jennifer is a multi-faceted person and is not only vocal about doing what she can to help the aging community of New Hampshire, but also is a musician and plays the viola.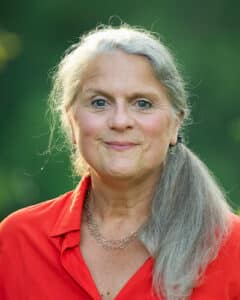 Martha Tecca
Community Care of Lyme & WIN (Well-being in the Nation) Network
Martha Tecca works for Community Care of Lyme and the Well-being in the Nation Network, where she focuses on building community – connections, partnerships, and a generous neighborly spirit – so that everyone can live the healthy life they choose. Additionally, she has experience in measurement and management to improve individual and collective well-being, as well as organizational start-up and strategy. She has a specialty in rural communities, aging and intergenerational populations, and end-of-life care.
Martha joined the Steering Committee because of it's positive, well-coordinated, and powerful network of leaders, who are committed to listening and learning together. She aims to make a difference where it matters in New Hampshire and across New England and serves as a model for collaborative efforts across the country. Martha is no stranger to NHAHA's efforts, as she also is a member of the Measurement and Strategic Planning work groups.
Martha is committed to helping the senior community of New Hampshire maintain their quality of life as they age, and she also practices what she preaches! She is a part of the "Wild Mountain Mama" group which consists of herself and fifteen other women who've been together 25+ years and enjoying hiking, sharing experiences, and growing older together.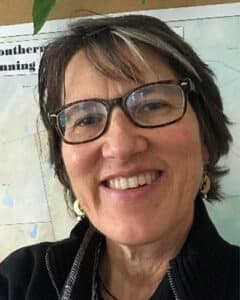 Sylvia von Aulock
Southern NH Planning Commission
Sylvia von Aulock works for the Southern New Hampshire Planning Commission, which serves fourteen communities in the Greater Manchester area. Here she works on land use planning and collaboration, in order to help guide communities in becoming age friendly.
Sylvia is thrilled to be part of the Steering Committee and has a special interest in age-friendly collaboration and jumpstarting the discussion to expand age-friendly community planning to all of New Hampshire. In addition to being on the Steering Committee, Sylvia also belongs to the Transportation NHAHA work group.
Sylvia does not just extend her efforts and influence to the senior community, but also to the children's community, and has even written and illustrated her own children's picture book titled The First Zebra, which she hopes to publish in the future.